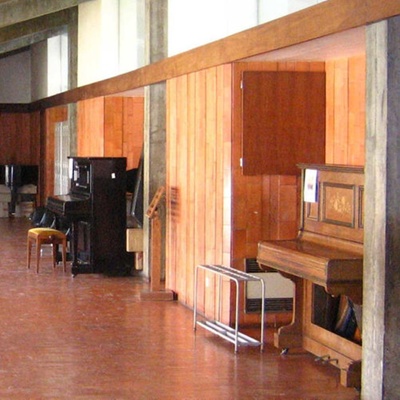 The initial core of this collection is a group of ten pianos, built between ca. 1904 and ca. 1958. This was an era of excellence in craftsmanship and choice of woods, resulting in very high standards of sound quality even in modest instruments. The sound ideals were then towards a less brighter sound than in the second half of the 20th century, and the vast majority of pianos in current use today already comply with this ideal. It is thus difficult for the modern listener to be aware of how a piano was expected to sound before WWII.
These ten pianos became part of the equipment of the Conservatory of Aveiro (est. 1962) since its early days and were used intensively. Although some of them are still in use, most have been neglected and some show strong signs of degradation.
Due to its sheer size and weight, pianos are cumbersome objects, which few people can afford to keep these days. Once a common object to find in a home, the size of modern apartments and the cost of keeping a piano in tune and in good mechanical conditions tend to make them likely to be neglected.
Although, as industrial products, these pianos were originally produced in large quantities, instruments from the first half of the 20th century begin to be at risk, and preserving these few specimens is one of the purposes of this collection.
Another equally important aim is to allow observation and comparison a number of characteristics of these instruments. Three Blüthner upright pianos (CIM-002, CIM-003, CIM-004) have almost identical actions and structures, but their cases reflect changing fashions in furniture. Their actions have an uncommon feature: the dampers are above the hammers. Two Grotrian-Steinweg grand pianos (CIM-008, CIM-009) display slight variants in the framing and structure of what is essentially the same model, but, being produced 30 years apart, sound very different.
The Collection also includes other instruments and audio equipment now seen as obsolete, such as two electrically powered small harmoniums (CIM-011, CIM-012) and audio equipment of the 1960's, including two Philips reel-to-reel tape recorders (CIM-013, CIM-014).
Contact Details
Colecção de Instrumentos Musicais, Conservatório de Música de Aveiro de Calouste Gulbenkian, Av. Artur Ravara, 3810-096 Aveiro
+351 234378770
Collection curator: Pedro Bento (Coordinator of the Department of Musical Sciences, Conservatory of Aveiro)
Visitor Information
Conservatório de Música de Aveiro de Calouste Gulbenkian, Av. Artur Ravara, 3810-096 Aveiro
The collection will be presented to the public the 14th June 2013. For further enquiries please contact the curator.
Search CIM - Aveiro's Collection
eHive copyright disclaimer
It is the responsibility of the eHive Account Holder to gain copyright clearance for any images or content published on eHive. If you are concerned about the copyright status for any content in eHive or would like more information on using or ordering copies of content, please contact the Account Holder of that content. For further information see our Copyright Claims page.