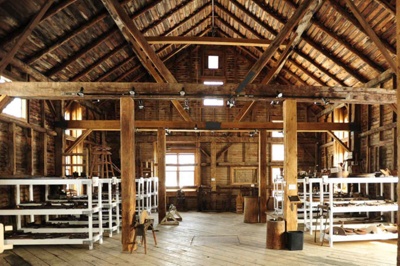 The Arnold Zlotoff Tool Museum collection includes over 3,000 pieces dating from the colonial period to the early 20th century, originating primarily from the Northeastern United States. The collection features representative groupings of tools from a large number of trades and occupations as well as farm and domestic implements. It is effectively the result of the passion of one man, Arnold Zlotoff, to understand how things were made in the past.

Arnold was a New York City school teacher of Industrial Arts and a skilled mechanic, thereby developing his interest in tools. He was impressed by the craftsmanship and ingenuity of the early Americans many of whom fashioned tools themselves. Others would collaborate with local blacksmiths, who would serve as tool makers. He began collecting in the late 1940s, when he returned to study teaching, after serving two years in the United States Army.

He continued to collect into the early 1980's, when the space limitations of his residence prohibited further acquisitions. Various options were discussed as to the ultimate disposition of the collection amongst him and his sons. Just prior to his death he elected to keep the collection intact and leave it to his eldest son to determine its future

The family encountered the opportunity to purchase and rebuild a 19th century barn to create the Arnold Zlotoff Tool Museum. It is now in place with the tools fully displayed in South Hero, Vermont, on beautiful Lake Champlain.
Contact Details
(802) 349-9236
www.arnoldzlotofftoolmuseum.com/
Visitor Information
The Museum is located at Apple Island Resort in South Hero, Vermont, right off US Route 2
For 2013- Every Saturday, Memorial Day to Columbus Day 10:00 am - 4:00 pm
Free Admission
Facilities
Wheelchair access
Reference library
Parking
Toilets
Search Arnold Zlotoff Tool Museum's Collection