Edward Royce RAMSAMY (Ram Chandra), b. 24th May 1921, Lawrence via Grafton NSW, ...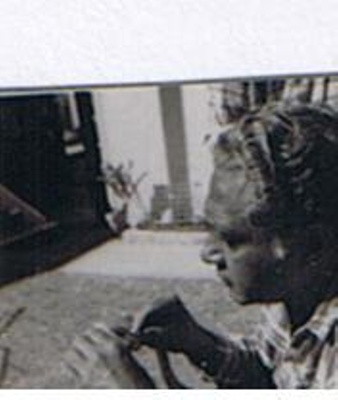 From
Australian Stockman's Hall of Fame and Outback Heritage Centre
Name/Title
Edward Royce RAMSAMY (Ram Chandra), b. 24th May 1921, Lawrence via Grafton NSW, d. 31st July 1998, Mackay QLD
About this object
Ram Chandra is a very special breed of man. He is one of those dedicated people who devote their lives to the betterment of others. For nearly 45 years Ram Chandra has daily sacrificed his living standards and jeopardised his own life in the cause of research and teaching. Rightly claimed as Mackay's son considering his association and life cause to research and education into Australia's most dangerous snakes in order to save lives.
As a part of "The Carnival of Eastern Wonders" in the 1940's, Ram with Nazir Shah travelled the show circuit with "The Pit of Death" handling venomous and non-venomous snakes, gaining knowledge which was to prove invaluable. It was his work with the deadly Taipan, Australia's most venomous snake which earned him the title "The Taipan Man".
In Mackay 1946 Ram adopted the name Ram CHANDRA to continue his interests in the side show business all the while gathering knowledge from direct observation, solid country advice and reputable authorities (particularly zoo keepers/reptile handlers and naturalists) on snakes; the show environment undoubtedly honed his skills in public communication and human behaviour.
He is the man who played a vital role in helping the Commonwealth Serum Laboratory develop an antivenene for the hitherto fatal Taipan snake bite. Areas of Queensland had been hit by a mysterious spate of snake bite deaths which baffled members of the medical profession. Victims had been bitten by "a brown snake", yet failed to respond to the common treatment.
Ram was intrigued and set out to solve the puzzle. He identified the snake as the Taipan and convinced people that the snake could be found in the populated areas of north and central Queensland and not just in the rugged Cape York Peninsula region. Three weeks after distribution of the serum which Ram had helped develop by milking the venom from the Taipan, the antivenene saved the life of a Cairns schoolboy, Bruce Stringer. In 1955 Bruce had been bitten by the Taipan while playing in the schoolground. Since that time 73 lives for certain have been saved by the Taipan antivenene.
In 1956 whilst demonstrating to a conference of Senior Ambulance Officers in the "Pit of Death" he was bitten repeatedly by a Taipan. Ram himself was saved by the antivenene and, which was itself subsequently available thanks to his earlier work of milking the Taipan for its venom and sending it to the Commonwealth Serum Laboratory in Melbourne, the arrival which occurred only months earlier. He has given lectures on the recognition of venomous and non-venomous snakes and the life-saving treatment of snake bites to hundreds in the medical profession - and to many, many school children and adults.
Over the years he has raised over $80,000 for the Ambulance in Queensland, about $9,000 for the Queensland Cancer Fund and many thousands of dollars to Lions Clubs, Rotary, Apex and local charities for their special projects.
Ram has fought back from paralysis which struck him from the waist down to continue giving lectures and demonstrations. He has also had to work to support his family. His consolation came in knowing that millions of Australians have and will continue to benefit from his knowledge and his totally unselfish commitment.
In 1975 Ram was awarded the British Empire Medal, was named Pioneer Shire Citizen of the Year in 1982 and was awarded the Order of the Outback in 1985.
Ram Chandra is indeed a very special breed of man.

SUMMARY - RECOGNITION OF SERVICE:
June 1975: British Empire Medal (BEM)
June 1977: Angus and Robertson published a book written by Phillip Jones titled: " Search for the Taipan: The Story of Ram Chandra which was to become the first of three books published in his honour.
1981-1982 Ram Chandra received his Senior Citizen Award (Mackay & Pioneer Shires) followed by the "Order of the Outback" in 1985 where he was again honoured for his work by a Local Government Authority, in this particular case the Shire of Bourke.
1988: Boolarong Publications published a book written by Tasman Beattie and Nan Rogers titiled: "Traveller Brown": The Story of Ram Chandra and The Taipan; the authors successfully undertook to write the book as a bicentenary of Australia project.
1991: Mackay City Council names Ram Chandra Place on the southern entrance to the city.
1992: Awarded Rotary Foundation Rotary International - Paul Harris Fellow (75th Anniversary).
1995: Medal Order of Australia (OAM). Subsequent to his passing in Mackay 31st July 1998 a 3rd and final publication by Kingswood Press in 1999 written by Nan Rogers titled Ram: The Man The Legend was released.
1999: Dedication of Ram Chandra Park, Slade Point, Mackay
2002: Research and Education Centre to be dedicated by QLD Health in honour of his work and life cause: Research and education into Australia's most dangerous snakes in order to save lives, is apparent.
Subject and Association Description
Ancestors: Grandparents - India, Bombay
Parents: Albert Ramsamy married Josephine (nee Suprain)
Siblings: Eight
Married: 29th November 1944, Mackay QLD
Spouse: Nolear Barba
Children: Eight and three adopted children
Resided: 1921-1939: Clarence River, Grafton NSW|1944-1998: Mackay QLD
Object number
USH00270
Copyright Licence
David Dodd
28 Jan 2018 10:12 AM,UTC
In the early 1960s, Ram came to Kempsey, NSW, to give some of his shows and he also went snaking down the lower Macleay. My Dad was an honorary ambo at the time and had to attend his shows in case medical help was needed. I got to go along as a wide eyed kid in awe of Ram. Ram came to our house for lunch between some of his snaking trips. At one of his shows at a picture theatre in West Kempsey, he asked for a volunteer to hold a red-belly on the stage. When the volunteer soon collapsed, we all thought he'd been bitten, but he'd only fainted! Very dramatic for a kid. We all thought Ram was a bit supernatural the way he wasn't phased by venomous snakes, especially taipans.
Leanna Ramsamy
31 Aug 2017 09:55 AM,UTC
I miss u so much pop ❤️
Glenn
08 Feb 2016 02:21 AM,UTC
An absolute legend! A good friend of my Grandfather, I have some very good old photos of the two of them together. Also remember being a youngster and choosing to do a school report on him. He sent me photos and a letter about his lifes work. I later met with him an presented him with my work. I had photos taken ay the time of the two of us. Such a proud memory for me and I know it meant a lot to him. He will never be forgotten.
Douglas cooper jnr
21 Jun 2014 08:56 AM,UTC
I was very young when dad used to take the family to uncle teds, I still remember every time.
Michele Fowler
09 Dec 2013 11:40 AM,UTC
Back in the 60's, whenever Ram came to Toowoomba, he would stay with my mother's family outside Toowoomba. After having read this, I am surprised beyond belief to find out that he and I shared the same birth date - 24 May. He was a lovely man. I remember watching one of his demos in Toowoomba. He called for a volunteer to have a snake (non venomous) bite them. My mother, who hates snakes, stepped forward as a tribute to him and what he had taught her. I think he was rather pleased and proud of her in that moment, as he explained to the people around that he knew her dislike of snakes.
Natasha Ramsamy
27 Nov 2013 08:37 AM,UTC
Our poppy has been gone for 15yrs and it makes me so proud that people still remember him and the legacy he left behind... R.I.P Pop you are sadly missed xoxo
karissa
28 Sep 2013 10:17 AM,UTC
My hero my pop... Love u x
Tags
Include tags such as place names, people, dates, events and colours. Use commas to separate multiple tags. e.g. Pablo Picasso, Madrid, red, 1930s.
eHive copyright disclaimer
It is the responsibility of the eHive Account Holder to gain copyright clearance for any images or content published on eHive. If you are concerned about the copyright status for any content in eHive or would like more information on using or ordering copies of content, please contact the Account Holder of that content. For further information see our Copyright Claims page.