Doll, sleeping; [?]; [?]; 2011.172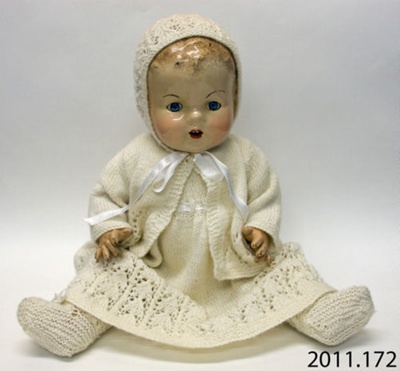 From
Owaka Museum and Catlins Information Centre Wahi Kahuika - the Meeting Place – a rest on your journey.
Name/Title
Doll, sleeping
About this object
Sleeping doll; a large, baby doll, with blue eyes which close when the doll is tipped back. The doll is made from a hard plaster[?], painted cream. Dressed in white, knitted dress, jacket, bootees and bonnet.
Maker
Maker Role
Maker
Date Made
[?]
Place Made
Medium and Materials
processed material, plaster
processed material, textile, wool
Measurements
h 510mm x l 230mm x w 140mm (approximately)
Large
Subject and Association Keywords
the family. marriage. women, children. child development
Credit Line
From the collection of Owaka Museum Wahi Kahuika The Meeting Place "a rest on your journey".
Object Type
Object number
2011.172
Copyright Licence