Doll; [?]; 1960s; CT07.4730a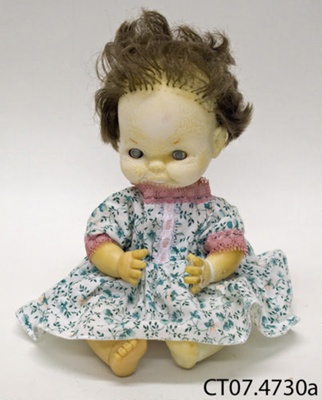 From
Owaka Museum and Catlins Information Centre Wahi Kahuika - the Meeting Place – a rest on your journey.
Name/Title
Doll
About this object
Doll; a small, plastic doll with dark, nylon hair. The doll has articulated limbs and its eyes, originally, would have closed. Dressed in a floral frock with mauve, lace edging.

Originally purchased from Winnie Forsyth's, c1965. Winnie Forsyth's was a small shop in Owaka, noted for fancy goods, stationery and a lending library. It was in the front room of Winnie's home (late 1940s to 1970s). Stock was mainly ceramics, ornaments, gift items and magazines. Today the building no longer contains a shop.
Maker
Maker Role
Maker
Date Made
1960s
Place Made
Medium and Materials
processed material, synthetic, plastic
processed material, textile
Measurements
h 180mm x l 120mm x w 100mm (when sitting)
Small
Subject and Association Keywords
commerce, business, retail trade
Subject and Association Keywords
the family. marriage. women, children. child development
Credit Line
From the collection of Owaka Museum Wahi Kahuika The Meeting Place "a rest on your journey".
Object Type
Object number
CT07.4730a
Copyright Licence
This object is in 2 communities